Do you remember strength training when you were a kid? Odds are, probably not. Traditionally, people do not begin dabbling with this form of exercise until they are teenagers, when their bodies are beginning to mature at a rapid rate. However, as our understanding of the human body and various training methods has progressed, so too has the range of workouts available for different age demographics.
We now know that youth strength training can be a safe and useful workout routine.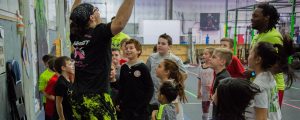 Dos and Don'ts
The ambiguity of the phrase "strength training" is what concerns many people, thus dissuading them from letting their children engage in this form of exercise. Strength training does NOT only mean weightlifting. Generally, your child should not be lifting heavy weights, as this can cause a high amount of stress on the tendons, muscles, and cartilage, which is compounded by the fact that he or she has not stopped growing and likely does not have the necessary coordination to execute certain lifts properly. Yes, weightlifting falls under the umbrella of strength training, but there are many other regimens classified as "strength training" that are safe for youths to partake in.
The ideal types of strength training to get your son or daughter into great shape are certain forms of resistance exercises and bodyweight exercises. These workouts put less stress on the joints, tendons, etc. than weightlifting does, while still posing a solid physical challenge. Bodyweight routines rely on just that; a person's own weight. Safer resistance exercises involve different types of bands and cables that pull against a person's direction of movement. Push-ups, squats, lunges, planks, and resistance band sprints are just a few of the many exercises that will both develop a young person's body, while also keeping him or her safe.
Hard Work Pays Off
Regardless of whether a young person is an athlete or not, strength training is a worthwhile activity that will pay dividends for him or her in the future. If he or she plays a sport, then those many hours spent training only serves as a head start on the competition. If the person is not really into sports, no problem. Strength training will have granted him or her strong bones, cardiovascular health, and a valuable work ethic. So please, do not be deterred from starting your child or children up on a strength training program, as a result of a few negative stereotypes surrounding this type of exercise. Facilities like DX3 exist to keep your sons and daughters safe and strong, using techniques backed by empirical data.
Make a positive decision for your child's health, and get him or her into strength training today! Contact us for more information!